Dressed in casual clothing, Katsuki Nogami's Namada Taro citizens move and act like humans; but when we look into their eyes, we are confronted with a frozen expression of a human face displayed on an iPad. "Yamada Taro Project Shanghai," on show from February 24 to March 24, 2017 at the Department of Culture and Education of the German Consulate General in Shanghai, presents us with discomfiting scenarios which explore the complex territory of the "technoself" and the swirling double-helix of intimacy and alienation associated with virtual or computer-mediated communications (CMC).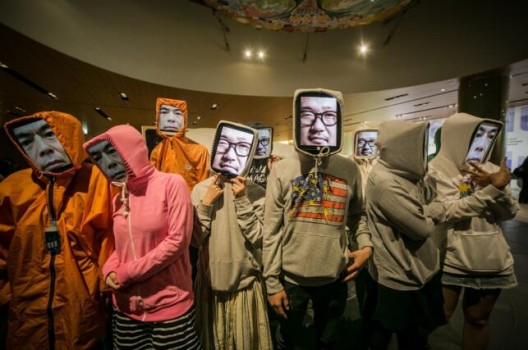 Part of the exhibition series "Foreign Bodies: Human Identity in a Posthuman World", the project explores posthuman themes such as internet impersonation, anonymity and the projection of online identities—these well-curated yet unverifiable wechat accounts and Facebook pages—which makes every individual their own publicist.
On the opening day of "Yamada Taro Project Shanghai", viewers will be invited to interact IRL (In Real Life) F2F (Face to Face) with Katsuki Nogami's curious cyborgs. Volunteers will approach viewers asking to capture their images, displaying these headshots on the face-mounted iPads. There is nothing terribly high-tech or sophisticated in this exchange: Nogami purposely employs the in-built image-capture technology of the iPad. With only a simple request from this curious cyborg visitor, participants steeped in a selfie culture unwittingly donate their face—delighting in seeing their countenance broadcast on the Yamada Taro as one cheers to see their face on a Jumbotron.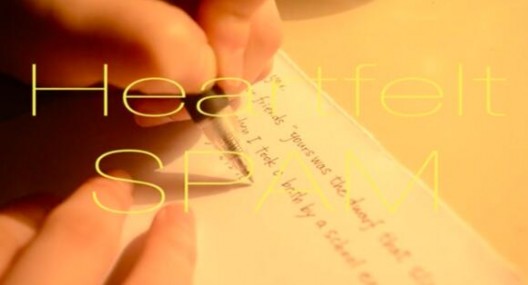 While we are immediately drawn to the glowing expressions on the screens, we actually have no idea as to the real identity of these Yamada Taros (Yamada Taro is the Japanese equivalent of John Smith). Interacting with these hybrid creatures, we experience first-hand the seductive nature of CMC conjuring up the attendant issues such as internet impersonation, catfishing and the armies of false social media accounts—some created for humorous purposes, others for fraud and mischief.
In fact, computers and algorythms comprise a growing segment of the internet citizenry with the phenomenon of "social bots". With the rise of Artifical Intelligence, machines are increasingly able to pass the "Turing Test" and exhibit convincing human-like behavior. "Social-bots"—algorithms that mimic social media accounts—accounted for 8.5% of the accounts on twitter and their behavior is so lifelike that computer scientists have to employ "honey pot traps" or legions of experts to root them out. Unlike humans impersonating other humans (i.e. fake celebrity twitter accounts), these regiments of bots can be programmed en masse and are already clogging the social media sphere with the size and volume of their programmed identities. As an example in the recent US election, 1/3 of the pro-Trump tweets were created by bots as contrasted to 1/5 of the pro-Clinton tweets in an unprecedented hack of the social consciousness.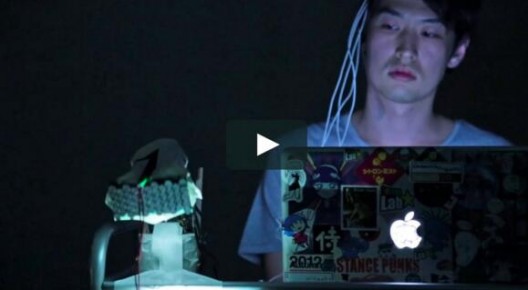 But in the ethos of critical posthumanism, Nogami's work doesn't condemn technology outright, rather it asks questions about how it can be used and abused by humans. The medium, rather than being the messages is more of a vehicle—a topic he has explored in his earlier practice through works such as "Heartfelt Spam". In this humorous project, the artist composed spam-like nonsensical messages by hand on stationary and mailed the letters to various individuals—thus challenging our assumptions about "pen and paper" what is thought to be a very personal and intimate medium.
This waltz between man and machine is a constant source of inspiration and inquiry for Katsuki Nogami as we see with his 2015 performance "REKION-CREPITATION" where the artist, wired up to a computer, moves literally in tandem with a robot. As he rotates his head and stretches his neck, a miniature robot makes a somewhat awkward approximation of his movements. While the moves of the robot are disjointed, the actual joints of the artist contribute an audio soundtrack their creaking and popping broadcast via super-sonic wave thus highlighting the artist's bodily existence.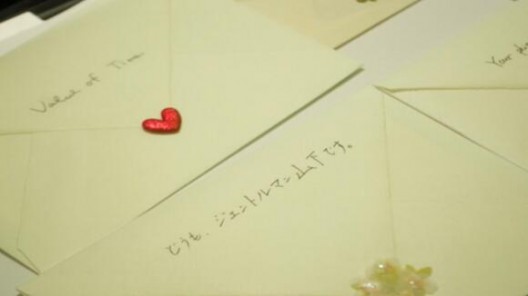 This awkward choreography highlights our challenging relationship with technology; we may appear to be in-sync but like the audible crepitations remind us—there is always a human somewhere behind the screen, acting as puppet-master.
Katsuki Nogami
New Media Artist and Music Video Producer
Born in 1992 in Japan, Katsuki Nogami graduated from Musashino Art University. He has participated in Olafur Eliasson's experimental art and research project "Institut für Raumexperimente" and his work was shown at media art exhibitions and festivals such as FILE, WRO, SCOPITONE International Image Gestival, FUTURE CATALYSTS—Hakuhodo X Ars Electronica, Sapporo International Art Festival and Roppongi Art Night.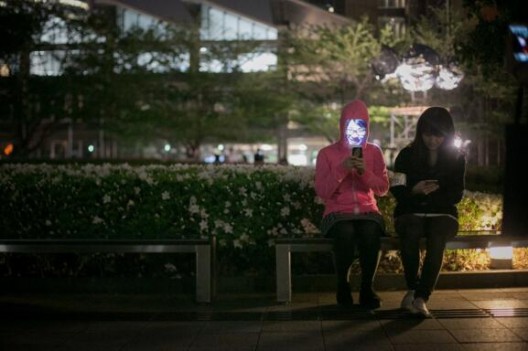 Rebecca Catching
Independent Curator
Rebecca Catching is the Executive Director of the contemporary art platform Assembly Line Project and co-founder of the online Chinese art magazine Ran Dian. During the past 15 years in China, she has worked as a magazine editor, art critic, gallery director and museum curator. Rebecca's research and curatorial interests include the continuing dialogue between Buddhist/Daoist thought and contemporary Chinese art ("Learning from the Literati" series), the field of social practice as (Assembly Line Project Studio) and the topic of posthumanism in the context of East Asian new media art practice ("Foreign Bodies").